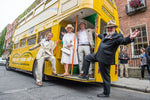 This year marks the 100th anniversary of the famous Bloomsday! On Thursday 16th June we can expect excitement and anticipation from Joyceans, as we find ourselves caught up in Bloomsday mania, some of it happening right here in Sandycove. Now is the perfect time to start planning a day full of festivities for you and the family to celebrate James Joyce's greatest legacy, Ulysses. If you are unaware of what Bloomsday is all about, here's the lowdown.
It took Joyce a lengthy 8 years from starting to write his novel, in 1914, through to getting it published in 1922. Bloomsday is named after the main protagonist in the novel, Leopold Bloom, and focuses on the happenings of Bloom and a number of other characters in the short timeframe from 8am on 16th June 1904, to the early morning hours of the next day. The first ever Bloomsday, in 1954, mainly consisted of two writers, Patrick Kavanagh and Flann O'Brien, visiting the Martello Tower in Sandycove, Davy Byrne's Pub in the city centre, and 7 Eccles Street, reading parts of Ulysses at each location and enjoying the experience with a few scoops!
Traditional Joyceans get all dressed up depicting their favorite characters from the book, engage in live reenactments and readings of Ulysses throughout the day, and embark on visiting several locations referenced in the novel, most importantly Martello Tower down the road from us here in Sandycove, which houses the James Joyce Tower & Museum.
Whatever you get up to on Thursday, there'll be no shortage of things to do – from walking tours and Afternoon Teas to a ride on the Bloomsday Bus - dive into some literary heritage, throw on a straw hat, and see where the day takes you!