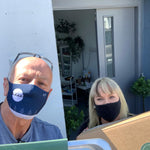 At the beginning of May, Naomi hung out with Bobby Kerr from Newstalk to fill him and his listeners in on all that is going on at Naomi's Kitchen. Ireland's very own Dragon kindly popped down to have a chat, a wander, and to get a feel for what's involved with our new business venture, and boy were we happy to show it off! (you can catch the interview by clicking on the audio link below). 
Bobby is local to our HQ in Glenageary and is a huge fan of our food. He recently gave us a brilliant review on some of the NKAH dishes he had tried, and for the new wing of our business like ours, feedback is everything. Our Boss Lady got the opportunity to explain to Bobby why we have selectively chosen to sell some other Irish suppliers products as well as our very own handmade meals and baked goods range. When we started Naomi's Kitchen At Home, we wanted to offer a boutique emporium for all things 'Deliciously Irish'. Luckily for us, the local producers & makers we contacted were delighted to jump on board to supply us with their array of amazing larder essentials and beautiful gifts. As a small business, we fully understand the importance of supporting local so we thought; why not do it as a team! 
It was interesting to go back and think about how this all began. March 2020 seems like a lifetime ago and so much has happened in the last year. There have been so many ups and downs, but you have to take the good with the bad and power through. To look back on everything we've accomplished in the last twelve months during a pandemic is absolutely amazing, and at the end of the day it all comes down to our customers. When we jumped on board with the 'Feed the Heroes' initiative, we never dreamed it would have turned into a whole new business venture for us. 
We really look forward to getting back into the event catering side of things and looking after all our long standing loyal regulars, corporates and bridal couples. 
Naomi's Kitchen At Home is here to stay and we'll be running the two tasty businesses side by side (wish us luck!) -  Full Audio below