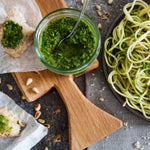 It's that time of year when wild garlic is growing in plentiful abundance. Naomi's mum Florence pops down regularly with bunches for us to use randomly in the kitchen. The flowers beautifully adorned our recent Easter Lunch boxes and we also pot it up so our customers can enjoy it drizzled over their favourite Naomi's Kitchen At Home dishes - the Lasagne al Forno and Classic Potato Dauphinoise seem to be big hits with our pesto pots!
The season is short for this woodland wonder so enjoy it while you can. Easily identifiable by it's pretty spray of white flowers and enticing smell, it's fun to forage for and something the whole family can pitch in with. You can use the flowers to adorn your salads, pasta dishes, vegetable tarts, and the pesto can be drizzled over anything that takes your fancy, including meat and fish or over the top of your favourite pizza. Add a few flower stems to a vase, along with some of your favourite spring florals, and leave it somewhere to be admired!
WILD GARLIC PESTO
60g

 

wild garlic leaves, roughly a good bunch of leaves
50g Parmesan, finely grated
50g pine nuts, almonds or hazelnuts, toasted
150ml extra virgin olive oil or Rapeseed (or half extra virigin and half normal olive oil
Sea salt & ground black pepper
Method
Rinse and roughly chop the wild garlic leaves.
Blitz all ingredients except the olive oil in a blender or food processor, and with the motor running slowly, add most of the oil. Taste and season adjusting the flavours where necessary. 
Pour into a clean jar, preferably a Kilner jar, (there is a reaction between the wild garlic oil and metal lids, hence the preference of a Kilner jar), top with the remaining oil and keep in the fridge. The pesto will keep for up to two weeks refrigerated. Just give it a good mix before using and that will allow the vibrant green colour to resurface.
Hey Pesto!!