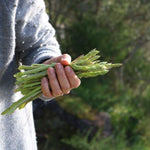 Asparagus season has arrived and we are absolutely thrilled! It's an all-time favourite vegetable that can be enjoyed in so many ways. 
It adds a bit of 'umph' to any dish, whether it's served with eggs at brunch, steamed, or roasted to be enjoyed with dinner. The best part about asparagus (apart from the taste), is that it is so simple to prepare. Look for tight buds and a firm stalk. Snap the woody part of the stem off, pop it in a roasting dish with some fresh cloves of garlic and a drizzle of olive oil and roast for 15 minutes, and then garnish with shavings of Parmesan; sauté it in some olive oil with lemon zest, lemon juice, flakey sea salt and some cracked black pepper - beautiful with fish; or use it in your favourite vegetable tarts and risottos. 
The season for local asparagus is short, so don't hang about if you want to make the most of these pretty little spears. Whatever way you decide to use yours, the manta is 'keep it simple'!
Why not try out our indulgent Asparagus and Pine Nut Risotto recipe? It's heaven on a plate..
Serves 2 | Skill level: Easy
What you need:
1 medium onion
4 garlic cloves
salt & pepper
bunch of asparagus
1 tbsp olive oil
1 tbsp butter
200g arborio (risotto) rice
50ml dry white wine
2-2.5 litres of vegetable stock
70g Parmesan (reserving some for serving on top)
zest and juice from one lemon
20g butter
truffle oil (optional)
Method:
Peel and finely chop up the onion and garlic.
Snap off the woody asparagus tips and roughly chop the stalks.
Heat oil & butter in a large saucepan on a medium-low heat.
Add the onions, crushed garlic, pine nuts, a tablespoon of water and season with salt and pepper.
Once the onion and garlic is soft, add arborio rice and let cook for two minutes, constantly stirring.
Pour in the white wine, allowing the rice to absorb it all.
In a jug, heat vegetable stock (homemade or shop bought), add a ladle at a time, until the stock has been absorbed by the rice, before adding more. Do this on a medium heat, as you don't want it to cook too quickly, or it will be stodgy on the outside, and grainy in the middle. Make sure there's about a litre of stock left, before adding the asparagus.
Add in the chopped asparagus, along with 500ml of hot stock, constantly stirring. You may need to add more or less of the stock, so just be sure to add a ladle at a time. This should take about 14 to 15 minutes and give you rice that is beginning to soften but is still a little al dente. The risotto should hold it's shape, but be soft and creamy.

Be careful not to overcook the rice - check it throughout to make sure it is the right texture and taste.

You could also steam/fry the chopped asparagus separately and add in once the risotto has been fully cooked.

Season well with salt and pepper, and add season with sea salt, grated Parmesan, lemon juice & zest, and fold through. 
Mix through the butter.

Serve hot with a drizzle of olive/truffle oil, grated parmesan and a sprinkle of flakey sea salt & cracked black pepper.