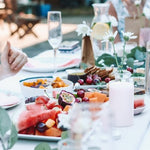 Never have our gardens come fully into their own as during the last 18 months. Of course it's always the people that make the party but having a few tricks up your sleeve will ensure that your al fresco party comes into it's own. In two words - get crafty!
DRESS YOUR TABLE WITH STYLE: finishing touches can make all the difference. Think bright and colourful, from small vases or jam jars of freshly picked flowers down the centre of the table, to setting out the food feast-style so everyone can help themselves. If you're heading for the informal vibe, try putting cutlery and napkins in clean terracotta plant pots and putting fruit cordials in large tapped Kilner Jars decorated with berries and mint leaves. That way everyone can help themselves. Make pretty ice cubes by adding flower petals, foliage or berries to the cubes before freezing. 
MOOD LIGHTING: Garland lighting can add a fun and festive feel to any garden and there's lots of choice out there from warm and cosy to bright and cheery. Tea lights in glass jars and large candles in holders all add something special to the scene. Think about using trees to string your lights on or to hang your candles from. Hanging colourful paper pom poms are also big on the list of deccies this year and make a good alternative from the unsustainable plastic of balloons. 
FLORALS: seasonal flowers are abundant in summer but don't forget about foliage and herbs to add colour and fragrance.
BE PREPARED: yes we live in Ireland and as such we all know to be prepared! Have a gazebo or awning as back up to keep you sheltered from the drizzle, or the blazing sun, and if you have the budget invest in a fire bowl or fire pit to provide a bit of warmth once the sun goes down.
GUEST COMFORT: Lay out a pile of cushions for comfortable seating and lounging. Having some nice blankets to wrap around your guests when the evening air turns cooler will also be much appreciated. 
DON'T FORGET THE TUNES: music is an instant mood lifter so think about getting yourself an outdoor speaker. Bear in mind that everyone's tastes may be different so variety is the spice of life here and the vibe may be different as day moves to night.  
All you need to do now is set the date, send the invites, and welcome your guests in style.....And maybe string up a pinata!