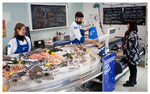 We've been working with some of our suppliers for so long, they feel like family. Our buddies at George's Fish Shop pride themselves on stocking the freshest fish available, plus – as they're local – we know they share our standards when it comes to quality and sustainability.
The Rogerson family have been selling seafood in Monkstown Farm for over 30 years. In 2010, Graham Rogerson – alongside his sister, Lisa – decided to branch out beyond their grandfather's wholesaling business by opening George's Fish Shop. With access to a fantastic range of seafood through the wholesale arm of the business, their customers are treated to the freshest of fish daily from all three of their eclectic nautical shops, located in Monkstown Farm, Monkstown Village and Stepaside Village.
They love nothing more than chatting about recipes with their customers, so should you wander through their front door, they will ensure you are never stuck for ideas as to how best to cook your fish.