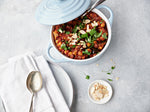 It's been a bumpy ride since March 2020 .... events have been cancelled and postponed, as everyone tries to figure out how best to host family celebrations with ever-changing restrictions. Office spaces that were once buzzing are now in a state of flux, and will remain so for the foreseeable future. However, surprising things can happen in times of crisis and new ideas can still flourish. Remember Feed The Heroes? We'll never forget the positivity emanating from that campaign. Our amazing staff and volunteers enthusiastically threw themselves into preparing meals and delivering them daily to hungry, overworked, yet incredibly upbeat frontline workers.
This remarkable initiative was spearheaded by Cian O'Flaherty, and one we were exceptionally proud to be part of. We began envisaging how we at Naomi's Kitchen could adapt our business in this challenging environment. The solution was born from our loyal customer base, both private and corporate. We learned many customers couldn't commit to standing in long queues, while almost everyone harboured a deep seated desire to TREAT themselves. So, we took what we're good at, rebranded it, repackaged it accordingly, and delivered it to people's front doors. The aim? To provide premium food products – all homemade, slow-cooked, and lovingly prepared by our small team of uniquely talented chefs.
The positive feedback flooded in, and we took the brave step to expand. We've always been very passionate about supporting Irish producers, craft-makers and farmers. Now, we've invited some of the very best in their field to showcase alongside us on our site. We are thrilled they've agreed to be a part of this, and hope you will enjoy browsing through what's on offer. 
While 'Naomi's Kitchen At Home' is a new facet to our expanding business, Naomi's Kitchen Event Caterers is still beavering away, ready to cater for all those postponed parties, weddings, new office openings, and product launches down the line. In the meantime, we're living our "new normal", and will be for some time. With it, we're looking forward to new beginnings – and bringing a little luxury to your door.